Warning: Illegal string offset 'thumbnail_type' in /var/www/wp-content/themes/Magazon/st-framework/templates/single.php on line 46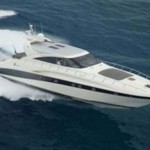 The yacht AB 68 is really interesting yacht, part of the middle sized yachts of the company. The yacht is providing nice interior, luxury furniture and a lot of entertainments. The yacht AB 68 has length of 20.65 meters and beam of 4.95 meters. The yacht has displacement, when fully loaded of 24 metric tons and draft of 1.10 meters. Really the yacht AB 68 is beautiful, giving great opportunities for traveling with your family or with your friends. The main engines of the yacht are two MAN D2842LE409, each having power of 1,550 hp. And of course this is not everything, because the yacht has hydrojets Rolls-Royce KaMeWa. This gives the ability of the yacht to reach maximum speed of 46 knots, while the cruising speed is a little bit lower – 42 knots. The yacht is made by Vinilestere-epoxy resins with Kevlar and Carbon reinforcements. The interior materials used are Divinycell sandwich panels under vacuum consolidated. The material are really high quality, providing reliability for the people on board. The yacht has capacity for 8 passengers, who will be divided into 4 staterooms – 1 owner's and 3 guests staterooms. All the rooms are furnished by Italian interior designers with beautiful colors and luxury equipment.
The yacht AB 63 is really great place for having your holiday. The yacht is not so large, but offering great opportunities for your beautiful holiday.