Warning: Illegal string offset 'thumbnail_type' in /var/www/wp-content/themes/Magazon/st-framework/templates/single.php on line 46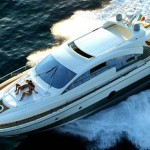 The yacht with name Aicon Open 82 is one pretty beautiful and nice yacht built by the Aicon Yacht Builder. The model has an overall length of 84 feet, which is equals to 25.60 meters. The beam of this beautiful yacht is 19 feet, which is equals to 5.80 meters. That is one pretty good, very nice designed and speceful yacht, which is not so much expensive as the leader in yacht building – Azimut. In spite of this Aicon Open 82 is very luxury designed and the most important thing is the fast speed of the yacht. The Aicon Open 82 has a maximum speed of incredible 43 knots, which is making this yacht very sportage and good for people, who like fast speeds. The yacht has a displacement of 126,800 libres, and fuel capacity of 1585 US gallons. This gives to the yacht an independence by fuel of about 1 day and a half, or about 38 hours. The fuel consumption of the yacht is big, but this is because of the high speed. The cruising speed of the yacht Aicon Open 82 is 37.5 knots. This high speed is produced by the large and good engine installed on board of this yacht. The main engines of Aicon Open 82 are two MTU tipo 16 2000 M91, each with power of 1492 kW. That is very high power for one small yacht, just like Aicon Open 82.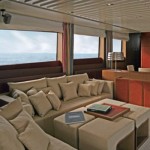 The beauty of the yacht is not hidden inside the engine, but insude the interior. The yacht is built in Italy, where is the home of luxury and brand goods. Also the most beautiful fiberglass yachts are built there, and I think that Aicon Yachts can be compared with the largest ones, like Benetti or Azimut. The interior of Aicon Open 82 is consisted of 4 cabins for the guests, and one spaceful livingroom with kitchen. The beautiful style of interior design is making the atmosphere really luxury. The passangers capacity of the yacht is 8 persons. The outside there is a large spaces for sunbathing, nice small couch and table on the open navigation deck. Also a small bar with beautiful atmosphere and nice style is situated in the aft of main deck. The music system is filling the atmosphere and will make you feel perfectly with your family and your friends. The yacht is absolutely new model from Aicon yachts and I believe that this will be one of the hits in the future years, and even can move the Benetti from the sonced place in fiberglass yacht building.