Warning: Illegal string offset 'thumbnail_type' in /var/www/wp-content/themes/Magazon/st-framework/templates/single.php on line 46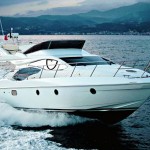 Definitely when talking about yachts, we cannot miss the brand of Azimut. The yacht of Azimut are really most luxury and amazing created ever. The yacht Azimut 40, which we will present now has length of 12.43 meters and displacement of 6.3 metric tons. The yacht of Azimut, always shines with luxury interior and reliable strong engine. The main engines on board are two Cummins with total power of 2 × 360 h.p. The main engine gives enough power for the yacht to sail with 24 knots cruising speed and over 30 knots maximum speed. Really the yacht provides comfort and enjoys all the people traveling with her. Azimut 40 is having great balance between design and ergonomics. The Italian desiggn can be easily seen and together with this the interior is from highest class. Azimut 40 is having capacity for 10 persons, divided into 4 cabins. All the living areas are designed to be comfortable, with LCD TVs, DVD systems, home cinema and whatever you can imagine that can be installed on board of one simple yacht. The yacht has capacity for water and fuel are more than 500 liters, which provides independence for the yacht of more than 3 days. This is quite enough for long sea travel and explains, how beautiful can be sailing with such yacht like Azimut 40. On board there are quite more extras, like swimming platform, luxury suite cabin on bow with separate WC and sea ladder.
Great yacht in all cases, because we all know that Azimut are making the most beautiful yachts ever, so Azimut 40 is quite small, but really elegant.