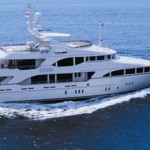 One of the most beautiful yachts are created in Italy. This is a country of designer decisions and very beautiful style. That is why today we will present to you one of the most beautiful pearls of Italian yacht building and exactly Benetti Vision 143. This yacht is beautiful with very nice style. The length of Benetti Vision 143 is 43.60 meters and the beam is amazing 9.26 meters. The yacht is luxury, beautiful, agresive and emotional. Benetti Vision 143 has a maximum draft of 2.54 meters and full load displacement of 390 metric tons. The beautiful Italian yacht is equipped with strong high revolution engine, to realize a fast speed with low fuel consumption. The main engines of Benetti Vision 143 are two Caterpillar 3508B, with power of 1300 hp each at 1836 rpm. The fuel capacity of the oil tanks is 67 metric tons and the water capacity is 11 metric tons. The cruising speed of the yacht is 14.5 knots, and ther maximum allowed speed is 15 knots. The yacht Benetti Vision 143 can pass 4 thousand nautical miles approximately with this fuel capacity with speed of 12 knots. This is making a fuel consumption 1 metric ton of fuel per 60 nautical miles (or nearly 200 liters per hour, which is equal to 53 gallons per hour. That is a large consumption of fuel, but we should not forget that this is large yacht with large measurements.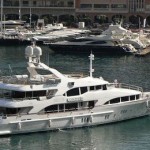 The yacht is one a of the best places for having a rest. So your holiday on board of Benetti Vision 143 will be one of the most interesting times. You can practise sports, water sports, diving, fishing and also driving jets, because this yacht is equipped with 2 jets from Yamaha. You can do whatever you want is one very luxury and nice atmosphere. Benetti Vision 143 is place for young people with beautiful places for parties, swiming and water sports and also for older people with nice ways for having a rest. This yacht offers everything.
You will have enough place for your holiday and even for living on board of this yacht. The yacht has two generators which will provide enough electricity for all electronic you weant to use on board. The power of the generators is 2×104 kW each. The living space is enough for 10 guests, and the staterooms, for the guests are 6. We should add 2 more rooms – living room and saloon, and also 3 rooms for the crew. The luxury on board of Benetti Vision 143 can be easily seen. So everyone will be ahppy to own such beautiful yacht. I like it much. And You?