Warning: Illegal string offset 'thumbnail_type' in /var/www/wp-content/themes/Magazon/st-framework/templates/single.php on line 46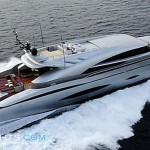 The AB yachts are really good known as much as the Azimut and Benetti yachts. The AB 1440 luxury yacht is one of the largest and most beautiful motor yachts I have ever seen. I'm sure you will be impressed by the aggressive design and beautiful interior. The yacht AB 140 has length of 41.60 meters and beam of 8.00 meters. The draft of the yacht, when fully loaded is 1.30 meters, while the displacement is 131 metric tons. The AB 140 yacht is amazing with style and engineering. Of course it will be funny if you lose this beautiful design with small engine, so the yacht builders installed 3 units MTU 16v4000, each having power of 3,700 hp. This means the the propulsion system of the yacht is providing power of 11,100 hp. This is really high power and with it the yacht can reach maximum speed of 47 knots, while the cruising speed is a little bit lower 35 knots. Really the yacht is quite attractive with design and style, providing high adrenaline for the people on board. Together with these facts AB 140 is reliable, made by GRP material and very strong architecture. The yacht is not only having beautiful design, but also large living area and beautiful interior. The yacht AB 140 is equipped with 4 staterooms for the owner and the guests. All the staterooms are double, having large living area, beautiful ocean view and all the extras, which you may need for beautiful holiday.
The the rear part of the yacht, there is water platform and open deck for sunbathing and parties. Great yacht, with aggressive style and beautiful design at all.