Warning: Illegal string offset 'thumbnail_type' in /var/www/wp-content/themes/Magazon/st-framework/templates/single.php on line 46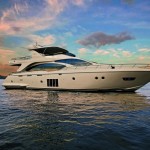 Azimut 84 is large, wonderful and really powerful yacht, which offers great space, aggressive design and really high power. The yacht will give you the comfort you need from your private vacation. The yacht is large, with unique design and really great capabilities for water sports, fishing, diving and sunbathing. The overall length of the yacht Azimut 84 is 25.69 m, while the beam is 6.45 m and the maximum summer draft is 1.79 m. The luxury yacht of Azimut has displacement of 75.0 tons, as the yacht is created with improved independence by sea. The yacht has 4 guests cabins, as one of them is VIP and also 2 crew cabins. The capacity of the yacht is for 8 guests plus 3 crew members. The hull of Azimut 84 is made by VTR/GRP material, which is light but strong. The large living areas of the cabins and the great sunbathing spaces are making the yacht great looking and attractive for private cruises. The luxury of the yacht is all around, as on board there is large lobby with small restaurant, where you may enjoy the great white leather interior and great wooden furniture.
Except the exterior and interior, the yacht Azimut 84 is aggressive and sportage with high power and reliable propulsion system. The main engines are two CAT C32 ACERT V12 – Vdrive, which has total power of 3,446 hp. Such high power ensure the safety operation of the yacht and high speed, which can be reached. The maximum speed of Azimut 84 is 29 kn, while the cruise speed is 24 knots.