Warning: Illegal string offset 'thumbnail_type' in /var/www/wp-content/themes/Magazon/st-framework/templates/single.php on line 46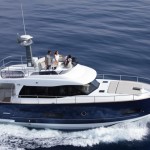 The luxury yacht Azimut Magellano 43 is really large and beautiful new model yacht from the famous Italian yacht-builder. The classic design, the improved autonomy and the perfect seaworthiness make this yacht perfect for long distance travel, which will make your cruise comfortable and really exciting. Azimut Magellano 43 has overall length of 13.63 m, moulded beam of 4.40 m and maximum summer draft of 1.20 m. The yacht looks small, but actually is quite comfortable offering really great capabilities for traveling. The displacement of the luxury Azimut yacht is 18.15 tons and the building material is VTR/GRP. The yacht has 3 cabins, which all give wonderful comfort and really large living space with own bathroom. Azimut Magellano 43 is quite large having capacity for 5 passengers, who will enjoy the luxury interior and a lot of great places for sunbathing and water sports. The yacht has all the appliances, which you may need for water sports, diving and fishing. The luxury interior and the classical design are really impressive and great looking. Azimut Magellano 43 is fantastic yacht for traveling, private cruises and vacations.
The engineering of the yacht is powerful and reliable, providing high power and really low fuel consumption. The main engines are four Cummins QSB 5.9, which give total power of 1,320 hp. Such high power and strong propulsion system allow the yacht to has service speed of 17 kn, while the maximum one is 22 kn. Definitely the yacht will impress you with comfort of sailing and cruising, as there are active and passive stabilizers, which seriously decrease rolling. You will love this yacht from the first sight, as the design is classic and the luxury interior is modern and really wonderful.