Warning: Illegal string offset 'thumbnail_type' in /var/www/wp-content/themes/Magazon/st-framework/templates/single.php on line 46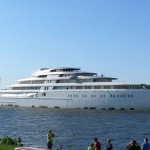 The super-yacht Azzam is the newest and most expensive private yacht of the world, property of the Saudi Arabian prince Al-Waleed bin Talal, who is also one of the richest businessmen in the country. The yacht is impressive in its size and luxury interior. The length of Azzam is 180.00 m, while the moulded beam is 20.80 m. The yacht has size of 2 football fields and definitely shines with great design and engineering. The depth of super-yacht Azzam is 4.80 m and the gross tonnage is about 14,000 GT. The yacht was completed and launched in 2013 and built by the famous and largest in capacity Lurssen yachts-yard. The price of the project is about 600 million USD and the yacht head the chart for largest private yachts in the world. Azzam is large and spaceful, offering top quality vacations for the owner and his guests. On board there is capacity for 22 passengers, who will be served by more than 50 crew members. Azzam yacht is impressive with its luxury and the great interior design. On board there is fitness, cinema and 11 luxury staterooms, each with own balcony and wonderful sea-view.
The yacht Azzam is one of the most impressive super-yachts of the world, but its machinery is also on top quality providing reliable operations. The main engine is Wartsila with total power of 90,000 hp, giving ability of the propulsion system to reach speed of 30.5 knots. On board there are 4 gas turbines and strong main engine, which can be seen in some of the middle size cruise ships. The yacht's engineering is from new generation having lower consumption and using optimizations of the modern marine engineering. Azzam has decreased fuel consumption and also has all the extras and speed, which anyone on board may need. The whole hull and superstructure is made by steel and protected with armor by fire. Such innovations are often seen in most of the large private yachts, as they case for the safety on board.