Luxury sailing yachts for charter in 2015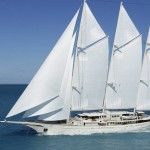 The summer is coming and yacht charter is one of the best option to make your vacation exciting and remarkable. Motor yachts are luxury and offer great comfort, but the sailing yachts will show you the real beauty of maritime and cruising. Today we will present you the most luxury and beautiful sailing yachts available for charter in 2015, according to Maritime News Journal.
Athena is the longest sailing yacht in the world available for charter. three-masted schooner has length of 90.00 m long ans has five bedrooms, numerous water toys and 20 crew members. The price for charter of the sailing yacht Athena is 450 000 USD per week.
Cavallo is 43.00 m long sailing yacht, which is currently in the Caribbean as part of a world tour. The yacht has capacity for 10 passengers and a top speed of 15 knots. Its price is 115 000 USD per week and is available from Ocean Indepence.
Prana is 52.00 m long yacht, which has many toys for water fun. The yacht offers cruises in Caribbean and the price starts from 175,000 USD per week, but definitely will give you great pleasure from cruises.