Warning: Illegal string offset 'thumbnail_type' in /var/www/wp-content/themes/Magazon/st-framework/templates/single.php on line 46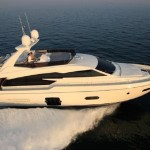 The yacht Ferretti 720 is great option for private yacht or yacht charter. It is large, comfortable and extremely luxury boat, which will make your vacation remarkable and unforgetable. The yacht has sporty exterior lines, combined with spacious interior and fashion furniture. Ferretti 720 has overall length of 21.95 m, while the length on the water line is 18.90 m. The moulded beam of the luxury yacht is 5.55 m and the summer draft is 1.90 m. The deadweight of the yacht Ferretti 720 is 62.70 DWT. The yacht is spaceful, large and has large capacity for the guests on board. The yacht has capacity for 8 passengers, divided into 4 cabins. 3 of the cabins are located on the head part of the yacht, offering wonderful views to the sea and really giving you ability to touch the beautiful ocean. The yacht has 1 VIP suit with own bathroom and large living area dedicate for the owner of Ferretti 720. Except these staterooms, there are 2 rooms for the crew and 1 room for the master, who will service you during the voyage. Ferretti 720 offers really great cruises, as on board there is two lounge bars (one of the top deck and one on the aft), large lobby with small restaurant.
The engineering on board is also on the quality, which the owner of such beautiful yacht will need. The main engines are two MTU 10V, each with power of 1,524 hp. Such high power and doubled main engines ensure safety operations. The main engines and propulsion system give high power and allow the yacht to sail with high speed. The cruising speed of Ferretti 720 is 21.5 knots, while the maximum speed is over 26.0 knots, according to the weather and wind. The yacht is large and really beautiful, as anyone who love yachting will enjoy the good and funny cruises on board.