Lauren L – passenger ship masked as yacht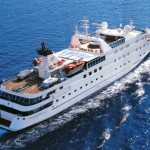 Lauren L yacht is part for the fleet of largest and most expensive yachts of the billionaire from Greece Livers. The yacht Lauren L has a length of 90 meters and a beam of 14.44 meters. The draft of the yacht, with full capacity of guests and bunkered is 3.95 meters. The yacht Lauren L is one of the most luxury yachts built ever, and many from the critics include this large yacht to small cruise ships. Lauren L has a capacity for 40 guests and the number of the crew members is 32. This will give a 100% for good service and very nice holiday on board. The luxury yacht was built in the ship-yard of Cassens Werft in Germany. The year was 2002 and when built the yacht was the most expensive one in the world. But after building of Alycia, another Liver's yacht, the first place was lost. The yacht Lauren L is made by strong steel material, which is giving a high reliability and high age of living. The engine of the yacht is one MAK Diesel 6M25, with full power of 1,850 kW. This is giving enough power to the yacht to realize speed of 15 knots. The maximum range of the Lauren L is 3,400 nautical miles, which is pretty much and offers a good way to travel all over the world. But this is a small ship and you will feel it in the first heavy seas. The active and passive stabilizers are making the voyage nice and pleasant for the guests on board.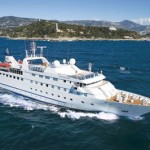 But sailing is only the one thing, which the yacht offers. All other supplies and features are just like the most luxury hotel of the world. You will feel perfectly on board of this yacht, because she is made to be comfortable. The yacht Lauren L has a Wi-Fi connection for the notebooks on board with internet, telephone and whatever you can imagine. The worldwide GSM connection can be established, even on a little bit higher price, but to be on board of this yacht, you should not think about the money. On board you will have all the entertainment facilities, which you can find on board of a luxury cruise ship or 5-star hotel. There is a beauty saloon, place for sunbathing on the open deck, 2 bars, large dining room and very nice VIP suites. Everything is nice, beautiful and luxury on board of this yacht. I will be happy even to see this beauty, and what about spending some time on board. The yacht is proper for rest, for parties, for water sports, for diving and may be everything. It is directed mostly to rich business people, who should have a non-stop connection with the shore, but want to go away from the all noise of the city.