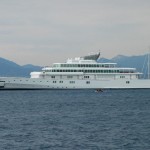 One of the largest yachts of the world built ever is the one Rising Sun. You can imagine such beautiful and nice designer yacht, created to be luxury with high level of reliability, environment and security. The yacht Rising Sun has a length of 138 meters (or 458 feet). The beauty was designed by the famoust yacht designer Jon Bannenberg and owner now from the CEO of Oracle Corporation – the billionaire Larry Edison. The yacht is the 5th largest in the world and one of the most expensive yachts with calculated price of about 200 million US Dollars.
But I said that the yacht is environmental and secure. I can prove my words when explain about the equipment of Rising Sun. The yacht has 4 x MTU 20V 8000 M90 engines. They are giving to the yacht a full power of 36,000 kW or 50,000 hp. I think that this is a great power for yacht. And if you think that 4 main engines and a power of 50,000 hp are amazing for yacht, you should know that these 4 engines are giving their power to 4 propelers, designed in that way ro reach the cruising speed of 28 knots, and the maximum speed of 31.5 knots. The yacht is very large and spaceful. There are 80 rooms for the guests and all living area is 8,000 square meters. This is really nice to hear such numbers for one yacht. And Rising Sun is one of the most beautiful yachts I have ever seen.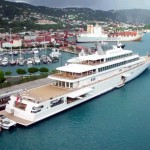 When talking about the yachts, we are talking about 5 star hotels. This one is even 6 star, because she has all the required luxuries and even much more. The large fitness hall is situated on the 2nd floor. the large private cinems with giant plasma TV is situated in the 1st floor, where you can watch movies all the day. The all staterooms are designed with large living area, large bathrooms with Jacuzzis, large LCD TV sets and nice furniture from diferent styles. With simple words, the yacht is very nice interior designed and very good looking.
Ouside on board there are 3,000 square meters, with helicopter cap, pool, sunbathing places, basketball court and whatever you can imagine. This yacht is really big and you will be amazed by it from the first sight.