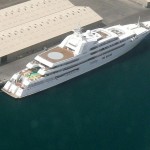 The yachts, which is on the first place as I learnt just some days ago from a friend, the most expensive yacht in the world. Motor Yacht Dubai is the most expensive yacht of the world with the price of 300 million US Dollars. The yacht is property of the Prime Minister of United Arab Emirated and ruler of the Emirate of Dubai. The yacht was built in Blohm & Voss, Lurssen in the year 2007 and now is property of Mohammed bin Rashid Al Maktoum. The yacht has a length of 158 meters, or 524 feet. The Motor Yacht Dubai has a beam of 24.40 meters and a draft of 4 meters.
The interesting fact for the yacht is that she was projected by the young brother of the Sheikh Mohammed bin Rashid Al Maktoum, and was named Golden Star. Later the project was turned into the reality with the work name Motor Yacht Dubai from the older brother and this is the most expensive and most beautiful yacht of the world now.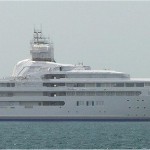 The beauty Dubai has a capacity of 24 guests, devided into 5 VIP appartments and 6 more luxury appartments, but from lower class. The yacht has a helicopter cap, small submarine, squash room, spa center and whatever you want. The yacht is a parfect place for your rest and a great place for living of spending one holiday. A large lobby and spacious and binding all decks, lighting them at the top moon light.
The yacht has an engine with a full power of 9000 horse powers. This is a great engine with high power and low revolution for high performance. The yacht is the most security place for living, and also one of the best looking yachts. Dubai is also very luxury place and you can call her in whatever you want name – Dubai, Golden star or the project name Platinum525. This is a great place for all people, who can give enough money for spending one day on board.