Warning: Illegal string offset 'thumbnail_type' in /home/content/p3pnexwpnas07_data03/94/2668094/html/wp-content/themes/Magazon/st-framework/templates/single.php on line 46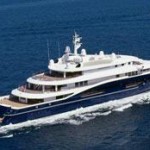 Definitely talking about super-yachts, we should not miss the number 12th largest yacht of the world – Carinthia VII. The yacht was built in 2002 in the ship-yard of Lurssen and offers high comfort to all the guests. The length of Carinthia VII is 97.20 meters, or 318.90 feet and the beam is 15.95 meters, or 52.33 feet. The yacht has draft of 4.80 meters and with 4 main engines of 9925 HP MTU 8000 is really one of the fastest steel super-yachts of the world. The total power of 4 x 9925 hp, can give ability for the yacht to reach maximum speed of 26 knots. The cruising speed is quite lower – 22 knots. The yacht Carinthia VII was designed according to the highest standard for luxury, safety and environmental. The ship-yard of Lurssen Yachts are giving high quality in yacht building and also in yacht refurbishing. The yacht Carinthia VII was built in 2002 and refurbished in 2005, with new furniture, new interior and new vision too. When you see this yacht during the right, it is looking really fantastic, all in lights, which are making the dark hull very beautiful. The yacht owner is Heidi Horton a wife of Helmut Horten, a German entrepreneur.
The yacht Carinthia VII is really beautiful, offering all kind of entertainments for the guests and for the owner. There is own cinema, there is helicopter cap, there is large jacuzi and whatever you may want.