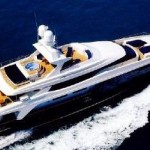 If you are looking for luxury yachts, definitely this one will be the right choice for you. Baglietto is luxury large motor yacht, which has length of 138 feet or 42.10 meters. The yacht has beam of 28 feet, or 8.55 meters and draft of 8 feet, or 2.45 meters.  Baglietto is luxury Italian super-yacht built in 2003. The luxury is all around and you will realize the you boarded to paradise from the first step on board of this yacht. And this beauty is also realiable for long voyages and very good designed. The main engines are two TBD 620 V8s Deutz with full power of 1523 hp. The engines are inboard, which is typical for large yachts, like this one. The independence by fuel of the yacht is about 4500 nautical miles, but definitely you will not be able to get such long voyage just with fuel. The yacht is nice designed and if you want to have exciting vacation close to the shore, this will be the perfect choice for you, your family and also your friends.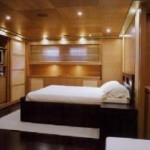 The capacity of motor yacht Baglietto is 10 guests, which will be hosted in 5 cabins. Also there is one more large double cabin for the yacht owner. This means that the yacht can host 12 persons, without counting the crew. The cruise with Baglietto will be calm and beautiful. The active and passive stabilizers will reduce rowing and you will not have bad moment during your cruise. The maximum speed of the yacht is pretty low – about 15 knots, but this is not so bad, because this will give you more time to photo all beautiful sights of your cruise. And one so beautiful yacht should have nice interior and design – leather coaches, classical furniture, LCD TV-sets, WiFi all around the yacht and large stereo system. This is only a part from all beautiful equippment on board of motor yacht Baglietto.
And if you like this yacht, you should know that the beauty and luxury has its price. The price of luxury yacht Baglietto is about 14.5 millions EUR, which is about 18.3 millions USD.