The beautiful yacht Blue Vision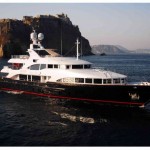 The yacht with name Blue Vision is one of nice yacht, which I will try to present to you. The beauty has a length of 143 feet, which is equals to 43.60 meters. The beam of Blue Vision yacht is 8.96 meters (approximately 29 feet) and the draft is 2.80 meters (approximately 9 feet). The beautiful motor yacht is designed and built in 2006 and with the sense of the yacht-owner is carrying is carrying the all interesting and luxury features, which one yacht can have. Blue Vision has a capacity for 10 people, divided into 3 double cabins, and 4 single. The beautiful atmosphere is one of the best things, which you can find in one boat. And all boats for sale have their problems in design, construction, engine and all other equipment, in spite of Blue Vision. The motor yacht has two strong engines Caterpillar, which are giving enough power for the yacht to sail with 12 knots cruising speed and to reach 14.2 knots maximum speed. Well this feature is one of those, which I do not like – too low cruising speed. The minimum speed for motor boat in my opinion should be at least 15 knots, because all lower speeds are boring.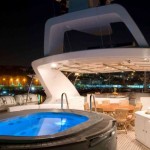 But when the yacht was built, the main feature of the designers is the ecological and economy styling. The yacht Blue Vision has a fuel consumption of 63 thousand liters per hour, which is giving independence by fuel of 4000 miles. So the yacht can sale in long distances, and you will feel comfortable on board. But one yacht for 30 million US Dollars, should be much more than sailing boat. So Blue Vision is yacht with own style. The yacht has a luxury atmosphere with great facilities for enjoying yourself and your friends. There is large Jacuzzi, places for sunbathing, 3 jets, for water sports, water sky, windsurf and diving equipment. And everything on board is absolutely secure and tested. The yacht builder Benetti, which is making some of the best qualited yachts of the world, is giving their best for creating Blue Vision yacht. So with 9 crew members, British flag and luxury interior is giving a great place for taking a rest from the hard working day. The yacht is very nic and the model is called Benetti Vision 143, but a little bit developed and nice furnished. This is one of the best looking and most expensive yachts of the world.